What is a Learning Commons?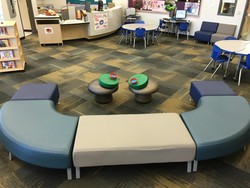 A learning commons is more than a library, it's a physical or virtual space that allows students to be engaged and deepen their learning by critically thinking, problem solving, collaborating, innovating and communicating. The goal is to broaden student learning beyond the classroom and community. For more information, visit the Alberta Education website. 
Library Technician
Learning Commons Online Catalogue and Resources
Click here to access our Learning Commons collections and digital resources. (Choose Father Henri Voisin School from the list.)
Login to Destiny with your school username and password - search for resources, access digital subscriptions, and manage your account.
To access the Online Reference Centre from home, contact Mrs. Kehler for our Division's password.
Book Fair November 8 & 9
Red Deer Public Library
After School Programs At The Timberlands Library
That Tween Thing
Wednesdays, November 16 
3:30 p.m. - 4:30 p.m.
Ages 8 to 11
Theme: Minute to Win It activities
Evil Genius Club
Monday, November 21
3:30 - 4:30 p.m.
Ages 8 to 12
Description: Attention all hackers and evil geniuses! In this after school club we'll make Lego robots, experiment with coding and electronics and plot to take over the world!
That Tween Thing
Wednesday, December 14 
3:30 p.m. - 4:30 p.m.
Ages 8 to 11
Theme: Celebrate with a Happy Holidaze party